Born: 18 May 1842 White River, Izard, Arkansas

Married: William D. Copeland 7 Oct 1857  (died),  Alexander R. Miller abt. 1895
Died: Blackwell, Texas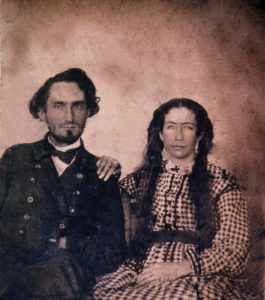 The fourth daughter, Rhoda, was born in White River, Izard, Arkansas on 18 May 1842.  She apparently was named after her mother, Rhoda Casey Riggs.
On 7 Oct 1857 she married William D. Copeland who was born in Riggsville, Izard, AR.  Some-time between 1863 and 1866 they moved to Bell County Texas.  William D. ran a hardware store in Salado.  William D. died 21 Apr 1879.
They are the parents of Franciole Decalb b. 1858, Frances Marion b. 1860 d. 1865, Shaler b. 1863 d. 1864, Florence b. 1866 d. 1870, Commodore b. 1869, Emma b. 1871, Charlie b. 1873, Tilden b. 1875, and Billie b. 1878 d. 1902.
Rhoda's mother, Rhoda Casey Riggs, was living in her home in the 1880 Census in Cedar Grove, Bell, TX.  William Carroll Riggs, the grandson of Rhoda Casey, brought her to live with Rhoda Copeland and her family after her sons James and Brannick Riggs had left Colorado for Arizona.  She was living with her daughter, Rhoda, at the time of her death in January 1881.
Some-time around 1895 Rhoda married Alexander R. Miller.
Rhoda died 17 July ???? in Blackwell Texas.