Brannick Riggs (1828-1907)
Born: 10 July 1828 Marion County, Alabama
Married: Mary Elizabeth Robbins in 1856
Died: July 4, 1907 Home Ranch, Cochise County, Arizona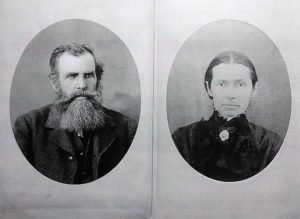 On 10 July 1828, a third son, Brannick Riggs was born to Thomas and Rhoda.  There is also some conflict as to which county he was born in.  The family tradition was that he was born in Tuscaloosa, Marion, Alabama.  I am afraid that is not possible for Tuscaloosa is and always has been in Tuscaloosa County.  But, Pickens County was formed out of Tuscaloosa County, so Brannick could have been born in the part of Tuscaloosa County that became Pickens County in 1820.  More questions!  We don't know why this son was named Brannick.  Is it a family name on the Riggs side or on the Casey side?  Was it the maiden name of one of their mother's?  Family tradition says the name Brannick was given to him by an Indian and it means "Herdsman".  Does the name Brannick truly mean "Herdsman"?  If so, where did it mean "Herdsman", among the Indians or somewhere in the British Isles?  Research identifies Brannick or Brannock as a surname coming out of the British Isles, and is found mostly in South Carolina but also in Alabama and Georgia.  I have a personal theory.  It is a nice story that the name Brannick was given to him by an Indian, but I think it is just a surname in the family or of a close friend.  There are lots of interesting speculations!
Brannick and James Riggs and Families
Brannick Riggs was born in 1828, in Marion County, Alabama, to Thomas and Rhoda Casey Riggs. In 1835, Brannick's younger brother, James Monroe Riggs was born in Monroe County Mississippi. Brannick and James came from a family of 11 children, 7 sons (William Carroll, John C, Brannick, Barney Kemp, Thomas, James Monroe and Charles) and 4 daughters (Rebecca, Margaret, Martha and Rhoda). Their growing up years were spent in Marion County Alabama, Monroe County Mississippi and Izard County Arkansas. As a young man, Brannick went to Texas where he met and married Mary Elizabeth Robbins in 1856. Mary Elizabeth was born in 1838 near Nashville, Tennessee. Her father was a teacher, who because of his bad health moved the family to Texas.
In 1859 Indians killed Brannick's older brother, John C., and his wife, Jane, in Coryell County, Texas. John C's parents took his four children to Arkansas to live with them.
The family was southern slave owners so, when the Civil War started the boys all fought on the side of the Confederacy. Brannick served under Sibly and was wounded in the shoulder in a skirmish the day before the Battle of Shilo. During and after the Civil war Brannick's parents and their family had hard times so they moved to Bell County Texas where several of the children had made their homes.
Brannick, his brother James Monroe, and their father, Thomas, went to Bandera County in Texas where they began developing land and engaged in cutting large Cedar trees for timbers that they hauled into San Antonio. James Monroe Riggs became expert at making wood shingles by hand. In 1867, before their homes were finished and the families could join them, Thomas Riggs was drowned in the Medina River. After his father's death, Brannick took responsibility for his mother and his nieces and nephews.
The lure of California was strong, so in April of 1870 Brannick and his family, James and his wife, the 2 nephews, William Carroll and John Roland Riggs, and Brannick's mother, Rhoda Casey Riggs, started for California. They arrived in Trinidad, Colorado, in July and settled in Chicosa Canyon where they stayed for the next seven years. Again they set up a sawmill, cutting timbers for the mines, and James engaged in the making of wood shingles by hand. They ran some cattle, but mostly for family use.
In 1877, James moved with his family to Dos Cabezas, Cochise, Arizona where he ran a grocery store. James wrote to Brannick telling him of the opportunities of the Sulphur Springs Valley and Dos Cabezas areas. The reports must have been intriguing for in 1877 Brannick packed up his family and headed for Arizona, leaving behind his oldest son, his two nephews and his aged mother.
In October 1879 Brannick and his family arrived at Emigrant Canyon on the north side of the Chiricahua Mountains, about 5 miles east of old Fort Bowie. They brought a herd of milk cows with them. Not needing all of the milk and butter produced, it was sold to the soldiers at Fort Bowie. Soon the spring they had camped near dried up forcing the family to look for a permanent source of water. This was found on the other side of the mountains in the Sulphur Springs Valley about 12 miles straight south of Apache Pass. The story has been passed down through the family that grass was belly high to a horse when they moved into the valley. They had left Texas originally to go to California. When Brannick started talking again about moving on to California, Mary Elizabeth told him, "Mr. Riggs, you and the boys can go to California if you want, but the girls and I are staying here." So they all stayed! Brannick moved up the creek about 2 miles where he found permanent water and established "Home Ranch" on Pinery Creek.
This was good land for raising cattle and it soon became apparent to Brannick, and his sons, that they could supply beef to Fort Bowie as well as milk and butter. To improve his herd, Brannick bought some good Hereford stock from Col. Henry Hooker. With lots of hard work, Brannick and his sons improved their cattle business as they acquired land, water rights and more cattle. With the closure of Fort Bowie in 1894 the Riggs family found other markets for the sale of their beef cattle.
Brannick and Mary Elizabeth also had eleven children. The first six children, Thomas, Rhoda, William, Martha, Brannick B. and James, were born in Texas and the next three, Mary, John and Lucy in Colorado. Their youngest son, Barney Kemp, was born in Emigrant Canyon and their youngest daughter, Edith Bessie, at Home Ranch. Edith Bessie didn't live very long and was the first to be buried in the Riggs Family Cemetery in 1885. This Cemetery, the final resting-place of many of the Riggs family, is located on the south side of Highway 186, about 30 miles from Willcox. Brannick Riggs passed away in 1907, just 6 days before his 79th birthday. Mary Elizabeth died in 1935 in her 97th year.
Brannick and his family moved into the Sulphur Springs Valley a year or two after the Chiricahua Apache Indian Reservation was discontinued. Although many of the new settlers still had Indian problems, the Riggs people were never bothered. Many of the neighbors gathered at Home Ranch, whenever an Indian scare occurred, for protection. If the Indians came into their camps or to the ranch, Brannick would give them food. He always dealt fairly with the Indians.
Brannick and Mary Elizabeth Riggs believed in education and encouraged each of their children to pursue a secular education. There were no schools in the area where they settled so Brannick built a one-room schoolhouse near his home and brought teachers from the east to teach his children and the neighborhood children. Because of ranch and family responsibilities, Brannick's two oldest children, Thomas J. and Rhoda didn't attend college. The rest of his children attended college at the Valparaiso University in Indiana. One son studied Civil Engineering and two sons became Lawyers, practicing law in Tombstone for a few years. It was felt that education was important for the girls as well and they attended college in Indiana and Arizona.
Brannick and several of his sons were actively involved with the Masonic Order throughout their lives, as were some of his grandsons.
Each of the Riggs children was given a heifer calf and a brand when they were young. From this first calf they built herds of their own and each child obtained a ranch of their own. Arizona was open range when the Riggs family arrived. Through some homesteading and by purchasing other ranches, the Riggs ranches stretched from close to Turkey Creek along the base of the Chiricahua Mountains and the Dos Cabezas Mountains almost into Willcox. Brannick and his sons, daughters and sons-in-law could see that if they joined together in the Riggs Cattle Company, it would be beneficial to all. Brannick, Mary Elizabeth, 5 of their sons and 3 of their daughters, started the Riggs Cattle Company in 1904. It was decided it would be in the best interest of all the families involved to dissolve the company in 1922. During the time the company operated, it was one of the large cattle operations in Cochise County.
Besides the cattle business, the Riggs men were involved in several additional businesses. Brannick Riggs had a two story brick building built on the corner of Central and Main street in Safford. The bottom floor contained a clothing store and the second floor was the meeting place for the Masons. T.J. Riggs was involved with setting up the first telephone service in the Willcox and Bowie area. He helped build a phone line connecting the ranches in the Riggs settlement to each other and to Willcox. Brannick Benjamin and his brother, James Jay, bought the sawmill located in Barfoot Park on top of the Chiricahua Mountains from Mr. William Downing. They hauled timbers for the mines in Tombstone, Pearce and Paradise. Brannick and his sons were involved in the King of Lead Mine in the Chiricahua Mountains and invested in the mines in Dos Cabezas and Paradise.
Brannick taught his sons to give back to their community through service. Thomas Jefferson served on the Bowie School Board for a number of years. Thomas' son, Edward Murray Riggs, along with his wife, Lillian Erickson, was instrumental in developing the Wonderland of Rocks, now known as the Chiricahua National Monument. William served seven years, 1904 – 1911, on the Cochise County Board of Supervisors, the last four years as Chairman. William also served as Senator from Cochise County in the State Legislature, 1915 –1916. James Jay Riggs served one term in the Territorial Legislature from Cochise County. He was involved with the Arizona Rangers helping to prosecute cattle thieves, the Territorial Livestock Sanitary Board and with the state and national Cattlemen's Association. John Casey served in the Senate of the Eleventh State Legislature.
Three of the Riggs brothers, William M, John Casey, and Barney Kemp, established the Riggs Bank in Willcox in 1920, which they ran for several years. Thomas J. Riggs was part of the operation of the bank branch that was opened in Bowie. Although the Riggs brothers had gradually withdrawn from active management, selling the bank in 1933, it still had their name when the National Bank Holiday closed many banks. Although they were not legally obligated, the Riggs brothers felt a deep responsibility to the depositors of the Riggs Bank, so they borrowed money and made sure none of the depositors lost their money. Their father had taught them to be honest and to be men of high integrity.
Brannick and Mary Elizabeth had five daughters, Rhoda, Martha, Mary, Lucy and Edith, who died as an infant. When the family moved from Colorado to Arizona, Rhoda and Martha were old enough to help with driving the cattle. As they grew up the girls helped with the work of the ranch and were knowledgeable about the operations of a ranch. From the calves each girl was given, they developed their own herds. As they established their own ranches they were able to ride and help their husbands with the ranch work. All of the girls loved horses and were expert horsewomen. When the Riggs Cattle Company was organized Rhoda, Mary and Lucy were partners in the business.
Rhoda never married. Martha married Thomas Bell Stark and Mary married his brother, William A. Stark. Lucy married Gus L. Moore. Each of Brannick and Mary Elizabeth's daughters, along with their husbands, established ranches in the Riggs settlement. Although the Riggs women didn't become involved personally in the community, as did their brothers and husbands, they supported the men in the things they did. People were always made welcome in their homes.
There is a more complete history of Brannick Riggs available on the Brannick Riggs Family History web site.