Deaths of Thomas (Augustus) Riggs and Rhoda Casey Riggs
Apparently the Riggs family had property on both sides of the Medina River in Bandera County or at least used land for grazing livestock on both sides of the river.  The Medina River occasionally has disastrous floods.  There was a flood in September 1867 that was very devastating for the Riggs family.  The following notice was found in the "Pioneer History of Bandera County":[1]
Drowning of Riggs
          Many of the early settlers of Bandera county remember the drowning of Thomas Riggs in the Medina River below Bruin Creek sometime in 1861 (1867)  The river was on a big rise and it seems that Riggs, who was an expert swimmer, attempted to go across to look after some stock on the other side.  He may have been taken with cramps, for he was seen to go under and failed to come up.  Searchers found his body the next day lodged in a drift.  George Hay, O.B. Miles, Thad Ryan and others went from Bandera to assist in the burial.
Thomas would have been about 65 years old when he died.  Rhoda and her grandchildren were still living in Bell County Texas.  Her son Brannick moved the family to Bandera County in October 1867 so he and his brother James could help take care of their mother and the children of their brother John C. Riggs.
          In the book, "Chicosa Bill", his grandson, William Carroll Riggs says, "On October 16th 1866 (1867) our grandfather was drowned in the Medina River, Bandera County, Texas, and shortly after, we moved to the head of Big Indian Creek in Bell County, first stopping on the old Chamberlain place and then going to the Pierce place, remaining there until October, 1867 (1868).  Uncle Brannick Riggs then moved us, with our grandmother, to his place near Medina River in Bandera County, where my sisters were married; Rhoda to A.C. Conover and Margaret to J.T. Benton. 
It appears life was not all that easy in Bandera County.  In the book, "Chicosa Bill", William Carroll Riggs says: "On 15 April 1870, Brannick Riggs, with his wife and children, James Monroe Riggs, with his wife,[2] and Rhoda Casey Riggs with her grandsons, William Carroll and John Rowland, left Bandera County Texas headed for the gold fields in California."  I don't find them in the 1870 census for apparently they were traveling and were missed.  They didn't travel alone.  An O.T. Clark and John Hyden left Bandera County with them.  Later P.S. Oatman and John Hildreth and families joined them.  This made up a small wagon train that traveled together for protection from the Indians in western Texas and eastern New Mexico.  It took them from the middle of April to the end of July 1870 to travel from Bandera County Texas to the area around Trinidad, Colorado.  This always seemed like an unusual way to travel from Texas to California.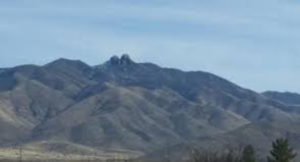 In 1876 James Monroe Riggs moved with his family to Dos Cabezas, Arizona.[3]  In July of 1877 Brannick Riggs started with his family for Arizona.  Rhoda Riggs remained in Colorado, living with her grandson, William Carroll Riggs.  By this time Rhoda was 73 years old and moving was not so easy.  In the spring of 1878 William Carroll took his grandmother to Bell County Texas to live with her daughter, Rhoda Riggs Copeland.  In April of 1879, William D. Copeland, husband of Rhoda Riggs Copeland, died.  That left Rhoda and her mother both widowed.  In the 1880 Census, Rhoda Riggs, age 78, is living in the home of her daughter, Rhoda Copeland.
In the book, "Chicosa Bill", William Carroll Riggs says his grandmother, Rhoda Casey Riggs, died in January 1881.  She would have been 79 years old.  He says she was buried in the Mann (Land) Cemetery at Cornhill (now Jarrell), Williamson, Texas, next to her oldest son, William Carroll Riggs.  We have visited the cemetery and found the grave of William Carroll Riggs and several of his other family members.  William Carroll's grave was marked with a nice big headstone, as were the graves of his sons and son-in-law.  We did not find a marker or headstone for Rhoda Casey Riggs.  My husband contacted the man in charge of the cemetery but there was no record of Rhoda Casey Riggs or where she had been buried.  A small marker with just her name was placed beside the grave of her son William Carroll Riggs.  If a record of her burial someplace other than in the Land Cemetery is found proper arrangements can be made for marking it.
[1] "Pioneer History of Bandera County";
[2] James Monroe Riggs married Narcissus Benton, sister of J.T. Benton.
[3] James wife, Narcissus Benton Riggs, died and he remarried.  He married Elizabeth Drucella Hudson who had a son Richmond Lee Hudson.