Born: 1804 in Georgia
Married: Feb 1822 Marion County Alabama
Died: Feb 1881 Bell County Texas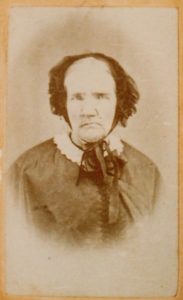 In 1804, somewhere in Georgia[1], a baby girl was born and named Rhoda Casey.  Rhoda must have been a shy child for the determination of her linage has also been elusive for many years.  Many people have spent much time looking for her parentage and siblings, again without success.
Rhoda was born 28 years after the United States became an independent country.  As with Thomas, boundaries of States, Territories and Indian Lands were in a state of flux in the southern states.  Because of this she also has an interesting mystery about her place of birth. It is possible she could have been born in Georgia, married in Alabama and died in Mississippi and never left her family home.  At the time of Rhoda's birth all of the present state of Georgia, and the top half of Alabama and Mississippi were all Georgia Territory and the bottom half of these two states were Mississippi Territory. The family could have been living in what would have been Georgia at the time of Rhoda's birth. A few years later that area became Marion County Alabama. We find a man we believe is her father, John Casey, owning land in Marion County Alabama and at the same time in Monroe County Mississippi. In the early days the Tombigbee River was considered by many to be the border between Alabama and Mississippi.  Because of uncertainties of where the state borders ran, people living east of the Tombigbee River believed they lived in Alabama.  With a re-survey of the state borders much of the territory of Marion County Alabama was discovered to be inside Mississippi's borders. In 1821 this was corrected and the area became known as Monroe County, Mississippi with Aberdeen as the County seat.
(Freda Cruse Phillips says that Rhoda was born in Ireland.  She says a John Kemp family were passengers on the same ship as the Casey family. The Kemps were friends of Thomas and Rhoda and lived near them in Arkansas. We need to search for these passenger lists.
Another possibility is a place called Ireland, Georgia. I found a record of Ireland Hill in Marion County, Alabama.  Need to look into this more.)
 On all of the Census records from 1850 to 1880 Rhoda's place of birth is shown as Georgia. The Census records of her children also say Georgia, with one exception, in 1880 her son Brannick reported her as born in Mississippi.
As with Thomas, I do not know who her parents or sibling are.  I think she was born in 1804.  The 1850 Census gives her age as 46, the 1860 Census as 56 and the 1880 Census as 78.  I have not been able to find her in the 1870 Census for she was living with her sons, Brannick and James Monroe, and their families, and may have been on the road moving to Colorado.
Because of the following letter sent to Rhoda, when she was living in Bell County Texas, that her husband, Thomas, sent from San Antonio, Texas, we feel she has a brother, Isaac Casey, who lived in Bell County near her.[2]
(There is an Isaac Casey, a John Casey and a Thomas Riggs that owned land adjoining each other both in Marion County Alabama and Monroe County Mississippi.
There is an Isaac Casey in the 1860 Census in Bell County, TX.)
 Perhaps Isaac is why the members of Thomas and Rhoda's family decided to go to Bell County when they left Arkansas.  Families usually moved to an area as a group or to an area where a family member was already established so they could help and support each other. Some of Thomas and Rhoda's children also lived in the Bell County area when Thomas and Rhoda moved there.
Sanantonia Rex       January 18th 1866

         

          Dier wife  my self taylor & Ellick is well   Mr Clarke is bad off with a pain in his hip & thy  was all here with our loads of salt but dull sale  our oxeon is all pore and wore down   wee will goe up to Brannicks and just leave our teams thare & come home   it will be some time before wee can get home but will bee thare as soon as posable   I send youe $35.00 in green backs to pay our taxes    youe muste  attend to it if you hav not given in our property   youe muste   wee have 9 head of  horses at Brannicks ole place   youe no what is at home   wee have not over 75 head of cattle if that   Doe the beste youe can youe had better get Isaac Casey to assiste youe

          Rhodey Riggs                                                       Thomas Riggs
(Is the Ellick referred to in the letter Alex, a black boy that worked for them in Bandera County?  Or could it be Jesse Elik Casey, a brother of Rhoda's? In the marriage info from Freda Cruse it names Jesse as a brother of Rhoda.    There is a Jesse Casey in Marion County Alabama.  Taylor is most likely, Ozias Taylor Clarke, the son of Walter Clark, a neighbor that lived next to the Riggs family in Blue Mountain, Izard, Arkansas and moved to Bandera County with his family in 1864. I believe they were in Bell County as were the Riggs family until living quarters could be constructed for the families in Bandera County.)  (In an Ancestry DNA study a match was found for a descendent of Isaac Casey that indicates a relationship through Rhoda Casey Riggs.?  I also found Land records for Isaac Casey in Marion County Alabama and Monroe County Mississippi adjoining land owned by John Casey and Thomas Riggs.  I feel that the Isaac Casey mentioned is most likely Rhoda's brother and that John is her father.)
After her husband's death, Rhoda and her grandchildren were moved from Bell County to Fort Riggs in Bandera County with her sons, Brannick and James Monroe and their families.  When they decided to go to California she went with them.  Her grandson, William Monroe age 9, drove the Ox team that pulled her covered wagon to Trinidad Colorado where the family stopped.  Sometime in the late 1870's, after her sons James Monroe and Brannick had moved their families to Arizona, her grandson William Carroll took his grandmother to Bell County Texas to live with her daughter Rhoda.  In the 1880 Census we find Rhoda in the home of her daughter Rhoda Riggs Copeland.
[1] In 1800 the northern part of Georgia extended across the northern half of Alabama.  The southern half of Alabama was in Mississippi Territory, which was created in 1798.  Both northern and southern Alabama were considered Indian Lands. In 1802 Georgia ceded its land to present-day Alabama and Mississippi.  In 1804 this area was added to Mississippi Territory.  All of Alabama was Indian Lands.
The Federal Census was lost for all counties in 1800, 1810, and 1820.
[2] Copies of the letters from Thomas to his wife Rhoda were provided by Wilmer Lyons, descendant of Barney Kemp Riggs, son of Thomas and Rhoda Riggs.