Thomas and Rhoda, Their Life Together
          At the present time I have not found a marriage record for Thomas Riggs and Rhoda Casey. Because their first child, William Carroll Riggs, was born in October of 1823, my supposition is that Thomas and Rhoda were married sometime between 1820 and early 1823.
(Information from Freda Cruse Phillips tells us that they were married in Feb 1822 in Marion County Alabama.  She found this information in the Marion County News section of the Aberdeen Daily Bee newspaper from Aberdeen, Mississippi. There was a Margaret Casey in attendance that could have been her mother, a sister or a sister-in-law. It is possible that Margaret was married to Jesse the brother of Thomas Riggs. Her brothers that were in attendance were Jesse and Isaac.)
It is possible Thomas and Rhoda were married in Marion County, Alabama, for a man named John Casey, who is possibly Rhoda's father, and his son, John Casey, Jr., owned land in Marion County about that time, as did an Isaac Casey.  This land was located near some land we later find owned by a Thomas Riggs.[1]  These pieces of land are only a few miles apart.
Another possibility, if they were married before 1820 in the area of Pickens County, they would have been married in Tuscaloosa County.  Pickens County, located a little south of Marion County, was formed out of Tuscaloosa County in 1820.
In the story about Thomas Riggs taken from the publication "Mother Monroe, a Series of Historical Sketches of Monroe County"[2], it states that Tom Riggs, who kept a ferry above Aberdeen, married a Casey.  Marion County Alabama borders with Monroe County Mississippi and Aberdeen is in Monroe County.[3]  Which side of the boundary between Alabama and the Tombigbee River in Mississippi did Thomas live?
Ferry on the Tombigbee River Mississippi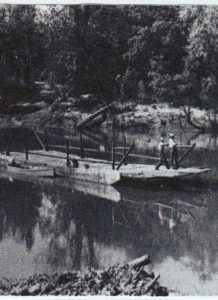 (There was a misunderstanding where the actual state line between Alabama and Mississippi ran.  For a long time many thought the Tombigbee River was the dividing line.  People living east of the river thought they lived in Alabama and the people living west of the River lived in Mississippi.  For several years the old pioneers voted with Marion County Alabama. The Alabama judges held courts and when delegates to frame the Constitution of Alabama were elected, the people living in Monroe voted with Marion county Alabama. In 1820-1821a resurvey was done and the state line between Mississippi and Alabama was established.  This resulted in Lowndes and Monroe Counties no longer being in Alabama but were a part of Mississippi. Was the land of Thomas and John and Isaac Casey in this area? Had the family moved to Mississippi or had they always been living in the area of controversy over the state line between Alabama and Mississippi?[4]  Need to research this further.)
The first record we find of Thomas and Rhoda they appear to be living in Pickens County, Alabama, in 1828 where a Thomas Riggs is serving as Justice of the Peace.[5]  It takes time to establish yourself in a community to be a Justice of the Peace.  He served from 18 Mar 1829 to 20 Feb 1830.
The only Thomas Riggs I find in Alabama in 1830 appears on the Census in Pickens County Alabama.[6]  The Census records from 1790 through 1840 gave the name of the Head of Household only, an age range and number of each person/s in the age range of the males and females in the household. If Thomas was born in 1802 he would have been between 20 and 30.  His sons William Carroll, born about 1823, and John C., born about 1825, would have been between 5 and 10.  His son Brannick, born in 1828, would have been under 5.  If Rhoda was born about 1804 she would have been between 20 and 30. There were no other females numbered.  The ages of this family fit the family of Thomas and Rhoda so I feel this is our Thomas Riggs.
Alabama was a new land open for settlement.  We find record in the Tuscaloosa Land Office, that Thomas Riggs purchased 80 30/100 acres of patented land, Sec 14 Twp 19 Range 14W, on 10 Feb 1832 at the rate of One Dollar 25/100 per acre, amounting to $100 38/100.  He paid in full.  On 5 May 1832 there is record that Thomas sold the land to Henry W. Taylor.
At this point I want to share some of my thoughts and suppositions about Thomas Riggs.  In Uncle John Riggs' book, "Our El Dorado"[7], he states that his father, Brannick Riggs, was born in Tuscaloosa, Marion, Alabama. Tuscaloosa was never in Marion County it was always in Tuscaloosa County. I wonder if he meant Tuscaloosa County.  Marion County was formed out of what at one time was Tuscaloosa County. The area where they lived was also known as the Tuscaloosa Land Area of Alabama.  The family group records that I have received from various sources all say that the first five children were born in Marion County, Alabama.  Pickens County Alabama was formed 19 Dec 1820 from Tuscaloosa County, so by 1830 it was an independent county.  Their son, William Carroll, was born in October 1823, a daughter, Rebecca, was born in 1824, a son, John C., was born in 1825 and a son, Brannick, was born 10 July 1828.  Were Thomas and Rhoda living in the part of Tuscaloosa County that became Pickens County when the first 4 children were born and not in Marion County?  Remember, Thomas Riggs served as Justice of the Peace from 18 Mar 1829 to 20 Feb 1830.  More questions!
The Migrations of Thomas and Rhoda
Alabama to Arkansas  
(Freda Cruse Phillips says that Thomas had come through the Izard County Arkansas area as a 17 year old boy, fell in love with the area but because it was Indian Land could not settle there.  He went on to Alabama but continued to work toward purchasing land in this area.  When the Indians were removed he then obtained land and moved his family there.)
In a magazine publication called "Mother Monroe, A Series of Historical Sketches of Monroe County"[8]  The following story was found by Wilmer Lyons.  It is the nearest thing we have as to a reason for the family's move to Arkansas. (We underlined the portions of the article that pertained to Thomas Riggs)
May 21, 1936

The Old Planter's Bank In

Aberdeen

Letter XLVIII

Another bank in Aberdeen deserves notice.  After the general suspension of the Banks, and when Aberdeen bank was discounting but little, there was such a demand for money that quite a number of planters determined to organize a bank, its circulation to be secured by a pledge on real estate.

A good many such banks started up in the State.  At a meeting, Dr. Reuben Y. Reynolds was elected president – a gentleman in whom the community had confidence and possessed of large property.  Parson Mann was elected cashier – a merchant and business man, having the confidence of his acquaintances.  Its name was selected: "The Planters' Bank of Aberdeen, Miss."  They sent on to New York, had the plates of different denominations, engraved and quite a quantity of bills struck off.  The engravings were very finely executed, and the paper on which the bills were printed was very superior.  The bills presented an appearance superior to any then in circulation especially of the new banks.

Several months elapsed before the plates and bills were received in Aberdeen.  A meeting of the stockholders was had, and the question to determine whether the bills should be signed and put in circulation?  Fears were entertained that their real estate would become embarrassed, and it was determined to sell the plates and blank bills, and abandon the enterprise.

Hiram S. Watlington lived in Aberdeen – a man of intelligence and business talents, and possessed of considerable means.  He bought the plates and blank bills.  It is believed he thought he could do a legitimate business, accommodate the community and pay himself for his investment and trouble. Selecting a cashier, he prudently signed and put in circulation the small bills, less than a dollar; these readily passed as change.  The demand was so great almost every merchant issued small bills as change.  It was the era of shinplasters and they passed readily all over the country.

The bank now put in circulation one, two and three dollar bills.  These did not pass so well, but Watlington, as president, satisfied the merchants, and by personal effort succeeded in keeping out a fir(?) circulation of small bills, promptly redeeming in current money any amount presented for redemption.

After a reasonable time he put in circulation a few fives, tens and even larger denominations.  These did not pass so readily, but he managed to keep out some in circulation.

Finding it so difficult to keep the large bills in circulation at home, several men were furnished considerable sums, to be put in circulation at a distance, and thus delay presentation for redemption.  The fortunes of one of these will be recounted.

          Tom Riggs, who married a Casey, had kept a ferry above Aberdeen – a keen, shrewd, sharp man and an excellent judge of human nature.  It was said Riggs was furnished $18,000 to be put in circulation in Arkansas.  With this "Bull Bank" money Riggs went to Arkansas, and managed to fall in with a trader who had a large drove of horses.  He managed to buy the whole drove, and paid every dollar in "Bull Bank" money.  These he moved further south, and traded off advantage.

          Watlington discounted small notes, these were returned to the bank for redemption so fast it was difficult to keep much in circulation.  He then adopted a rule that when a note was presented for discount the bank required an amount of current money equal to the note, to be deposited; an equal amount of "Bull Bank" money was exchanged for this deposit, and then the note discounted.  So the bank got out double the amount of the sum deposited.

It was difficult to keep his money out, but he promptly redeemed till parties from Athens deposited a large amount and got a large note discounted.  This money was taken that evening to Athens, and the whole of it returned by other parties on the day following.  He was now using largely his private means, and still but little circulation was out, and he had nothing to show for his private funds, but the discounted notes, and they not due.

About this time, a man named Ghent, put up at Reedy's tavern; in a day or two Ghent was arrested as a horse thief, being followed from some county south.  On searching Ghent, a letter (written by himself to a party in North Carolina), was found in Ghent's pocket, ready for mailing.  Ghent wrote to his friend, he had seen the President of the Planter's Bank, was to be furnished $75,000 to be put in circulation in North Carolina; that the president had agreed to pass through North Carolina and publicly redeem a sufficient amount to give the money circulation; so they could get all in circulation.

Dr. Pasley, a very clever gentleman, was the editor of the "Aberdeen Bee", and published Ghent's letter.  This made Watlington furious, and it was with difficulty a serious personal encounter was prevented.  Watlington, however, issued a counter publication, that he did not know Ghent, had made no arrangements with him to furnish him any money, or to go to North Carolina; that Ghent was an arrested horse thief, and severely reflected on the publication of the letter, as a stab at his bank; that he was prepared to redeem any and all bills out.  This knocked the bottom out, but still Watlington redeemed all that flowed in, and that rapidly.

About this time, Riggs returned, saw how matters stood told Watlington a plausible tale of his investment, that he had not realized on it yet, but would return to Arkansas in a few days, and then return and divide profits with the bank; that he found no difficulty in putting the money in circulation, and believed he could put out almost any amount.  Consequently he got all he wanted – how much is not known, but evidently a very large amount.  With this large amount, Riggs hurried to Arkansas, and managed to fall in with a trader, who had a large drove of Negroes; Riggs represented himself to the trader, as a Mississippian, that he had lately bought a large plantation, and wanted to buy Negroes to stock it.  The trader commenced to price his Negroes.  Riggs complained at his high prices, as the money he had was equal to gold, that it was Planter's Bank of Natchez".  Riggs showed the Planters' Bank bills, a very different institution; he played careless of buying, but remarked many of the old citizens of Arkansas would tell him the Planters' Bank had never suspended.

          Riggs now played off.  The trader on inquiring, was told the Planters' Bank had continued to pay specie.  Riggs, however, got some assistants to work on the trader.  One in the presence of the trader, made some trade with a citizen, and offered a bill of "Bull Bank" money, the citizen objected to the bill, he knew nothing of; it was represented it was Planters' Bank of Mississippi, was good as gold, had never suspended.  A stranger walking by, had his attention called to the dispute over the bill, stopped with, "What is the difficulty, gentleman?  It was explained; he took the bill, this money I know is as good as gold; the bank is redeeming it in specie, but I can accommodate you, and will give you a gold piece for it, and handed the gold over, remarking "I would like to get all this money I can as it is easier carried than gold, and in a few days I will return to Mississippi, and can get gold for all I have.  He then passed on carelessly.

          Such as this caused the trader to think he could sell his whole drove of Negroes and get gold for all; he was now anxious to see Riggs again, who was not hard to find.  The trader now proposed to sell for Planters' Bank of Mississippi.  Riggs would not think of it unless he reduced his prices, that his money was equal to gold, that for the bulk of carrying, he would have brought gold; put his prices right and then they might trade.

          The trader then took the nearest route to the bank to draw his gold.  Riggs, likely put out his tracks and left no sign of the route he went; hurried into a big bend on Red River, and located on one of the most productive farms on that stream, and for a few years pushed that drove of Negroes in cotton planting and made money very rapidly.

          Tapley A. Kemp lived at Athens, was coroner of Monroe about the time John T, Dyche was sheriff.  Tapley and Tom Riggs were old and intimate friends, extending back to Pioneer time.  Tapley took a trip West, with the design of moving, which he did afterwards.  While gone he heard where Riggs lived, who had been gone several years: he called to see his old friend, was very cordially received.  Riggs made inquiries after many in Monroe, and the object of Tapley's trip.

          The interesting conversation was continued with spirit for a considerable time – till there was a lull in it, when Tapley remarked: "Tom I find you on a large cotton plantation, with a good many Negroes around you. I confess there is a mystery I do not understand.

          Without a word, Riggs rose to his feet, saying, "follow me" led the way into an adjoining shed room, there he found a large strongly built oaken chest, some 4 feet long, 3 wide and 2 deep securely bound with iron.  When unlocked and the lid raised, he saw it was level full of gold.  Tapley called out, Tom what does this all mean?  Pointing to the gold, Riggs said, "Tapley, these are calves of the Bull Bank".
From the book, "A Patriot's History of the United States" by Schweikart and Allen, we learn that in the 1820's and 30's any state-chartered bank could print money as long as the notes were backed by gold or silver specie (coin) in its vault.  Some banks, however, suspended but continued to print notes. Without understanding the financial institutions of the times, I am not certain if what Thomas did was legal or not.  It certainly leaves me feeling that he may not have been very ethical. I have learned that because there was not a central banking system a lot of men did similar things.
I believe that these transactions paved the financial way for Thomas to obtain land in Arkansas and to move his family there where he raised them. Thomas and his family lived in Izard County Arkansas for about 30 years.
On 11 April 1869 the Izard County Courthouse, with all records, was destroyed by fire.  As a result of this fire we have not found birth, marriage or death records for the family that happened from the time they moved to Arkansas until they moved to Texas, except for the marriage of John C. Riggs and Jane Johnson.  They were married in Independence County Arkansas.
There has been a family tradition that Thomas Riggs was a Riverboat Captain on the Mississippi River.  Perhaps he was, but no record has been found to confirm or deny this family story.  As far as we know, Thomas never lived on the Mississippi River.  According to the "Mother Monroe" story he operated a ferry on the Tombigbee River between Alabama and Mississippi.  After he moved to Arkansas modes of travel were limited. There were no railroads on which Thomas could ship the produce of his farm to market.  The most economical way was to send his goods by boat down the White River, to the Arkansas River and into the Mississippi River near Cleveland, Mississippi. There is a possibility that he operated a private Packet on the White River in Arkansas taking his farm produce down the White River, to the Arkansas River then into the Mississippi.  From there he may have taken his goods south to New Orleans or north to Memphis. On a map I obtained in the Mountain View area in May 2000, there is the following information about steamboats.  "Often referred to as Packets, steamboats plying the upper White River were built with a draft of 12" – 16".  In 1844 the first Packet to reach the Sylamore, "The Victoria", was to open this spring-fed mountain river to these stately and noble boats.  Downstream freight consisted of cotton bales, cedar posts, furs, bear grease, pine knots & etc.  The last Packet to ply the White was in the spring of 1905.[10]  It is possible that Thomas owned his own small Packet using it to ship the produce from his farm to market and that his son, William Carroll, lived in Syllamore and took care of the shipping end of the family business.  Some additional information found on the map is about ferries.  "Sylamore Ferry was one of several ferries that crossed the White River, which provides no large natural landing on the Stone County side.  In spite of that fact, landings did develop along the river with names such as Hesstown, Guion & Ruddells.  The river was the only mode of travel into Stone County and as such ferries have crossed it for well over 100 years.  Guion, the last ferry across the White, was replaced by a bridge in 1992.  Sylamore Ferry ended service in 1968".  Perhaps William operated a ferry at Sylamore also. This is speculation.
By the time Thomas moved his family to Izard County Arkansas he owned slaves and quite a lot of good farmland. In the Slave Schedules of 1850 he owned 10 slaves. In the 1860 Slave Schedules he owned 13 slaves.  There is a history of Richard Gravelly, a run-away slave that joined the Union forces during the Civil war that named his father as Thomas Riggs. He claims his mother was a slave of Thomas Riggs and that when he Richard Gravelly, was three years old, he and his mother were sold to another family because the "Mrs. And her family" were moving to Arkansas.
The land records[11] show that Thomas and his son John C. owned land in the Richwoods area and that his son, William Carroll Riggs, owned land next to the White River in Syllamore Township.  Richwoods is located in a valley in the hills above the White River.  Syllamore is about 7 miles away on the banks of the White River.
(Freda Cruse Phillips places the location of Richwoods at the top of the ridge and Riggsville below it.  Mountain View is below Riggsville. Riggsville was the first named settlement in the area and according to Freda Cruse Phillips was established by Thomas Riggs.  Riggsville had a water mill, tanning yard, blacksmith shop, general store and at least two churches, Flatwoods and a Methodist church.)
Records of Political Service
          Although we don't find a Biography in a book that tells about the service Thomas gave to his community like we find on some men, which would also give us all the other information we need, we do find evidence that Thomas was involved with politics where he lived.  I believe that he figured out young that if he became involved in his community by holding political office it would benefit his business ventures.  We have record as mentioned before, that he served as a Justice of the Peace in Pickens County Alabama.  We next find that he served as a Representative from Izard County in the Legislature of Arkansas at Little Rock, Arkansas.  He served from 1844-1846 and again 1848-1850. [9] In the Arkansas Postal Records we find that Thomas Riggs was appointed Postmaster at Riggsville, Izard County, Arkansas 29 August 1860.  In 1862 there was a Riggsville Post Office listed, along with 12 others, in Izard County but no postmaster was listed. Thomas was instrumental in getting the Riggsville Dam built in Izard County and the community of Riggsville established.  He also helped build a Military Road in the area.
[1] In "The First Land Settlers of Marion County, Alabama" 1820-1850 by Lawler"; found that a John Casey owned land in Sec 6, T 12S, R 13W Certificate 895 12 Feb 1821 and that Isaac Casey owned Sec 24 T 12S R 13W Certificate 1848 18 May 1825.  We also found that Thomas Riggs owned Sec 23 T 10S R 15E in Marion County, Alabama.
[2] "Mother Monroe, A Series Of Historical Sketches Of Monroe County" from the Aberdeen Examiner 1936 -1937-1938; found by Wilmer Lyons.
[3] More information is available, and should be studied out, in the book "Tenn-Tom Country" by James F. Doster and David C. Weaver.  This book can help the reader to understand the geographical layout and their changes, of the areas of Monroe County Mississippi, Marion County and Pickens County in Alabama.  Studying this book may help one to know where to concentrate research into Thomas Riggs.
[4] See the book "Tenn-Tom Country: The Upper Tombigbee Valley" by James F. Doster and David C. Weaver; The University of Alabama Press, 1987.
[5]" Pickens County, Alabama; 1841- 1861". Compiled by Marilyn Davis Barefield and Carr Byron Barefield; Copyright 1984 by Marilyn Davis Barefield, P.O.Box 20231, Montgomery, Alabama 36120-0231.  Southern Historical Press, Inc., c/o The Rev. Silas Emmett Lucas, Jr., P.O.Box 738, Easley, Sputh Carolina 29641-0738.  Page 90 Civil Register of County Officials:  Thomas Riggs   Justice of Peace; served 3-18-1829 to 2-20-1830.
[6] United States Census 1830  Alabama, Pickens County:  Head of Household Thomas Riggs, 1 male under 5, 2 males 5-10, 1 male 20-30, 1 female 20-30.
[7] "Our El Dorado" by John Casey Riggs and Jeanette Riggs Roll; Copyright, December, 1957.
[8] Mother Monroe: A Series of Historical Sketches of Monroe County; Pioneer Times in Monroe County: From a Series of Letters Published in the Aberdeen Weekly 1877 and 1878; Who's Who in Monroe County Cemeteries. Hamilton, Miss.: Mother Monroe Pub. Co., 1979. – The Mother Monroe section of the book was originally published as a series of articles in the Aberdeen Examiner between 1936 and 1939.
9] Found in The Izard County Historian; also found in the Inventory of the County Archives of Arkansas.