Born: 1802 Tennessee or Kentucky
Married: February 1822

Died: 16 September 1867


A well-used Bible belonging to Thomas Riggs is in the family of his Grandson, William Carroll Riggs.
Somewhere in Tennessee or Kentucky, possibly in the strip of land known as the Walker Line, a baby boy was born in 1802 and they named him Thomas Riggs.  Now Thomas was an elusive lad.  Many people have been looking for him for many years trying to determine his linage.  We do not know the names of his parents or siblings.  We do not even know if he was born a Riggs. There has been much speculation as to why he is so hard to find. Did he run away from home and change his name?  Was he a younger son that fell out of favor with his father and was not named in a Will?  Were his parents too poor to even have a Will where he could be named?  Was he an orphan? Was his mother left a widow who remarried and he was raised by another man and took his name?  Did he just live in a part of the country where all the records were destroyed by fire during the Civil War?  Or, maybe we have just not looked in the right place yet.
Thomas was born 26 years after the United States became an independent country. Boundaries of States, Territories and Indian lands were in a state of flux for quite a few years after the Revolutionary War. There was a lot of juggling of State and County lines.  The information we do have as to the year and place of his birth comes from the Census records of the United States.[1]  In the 1850 Census it states that Thomas was born in Kentucky and was then 48 years old.  The 1860 Census states Tennessee as his birth place and gives his age as 58. I feel that Thomas, as a man, was very aware of the political scene of his times. He knew that there was a controversy over the boundary line between the states of Kentucky and Tennessee. He gave his birth place as Kentucky in the 1850 Census but knew of the boundary change of 1859 and so gave his birth place as Tennessee in 1860.
Thomas died before the 1870 Census.  In the 1880 and 1900 Census, Thomas' youngest daughter, Rhoda Riggs Copeland Miller, gave her father's birth place as Kentucky.  In the 1880 and 1900 Census, Thomas' daughter, Margaret Riggs Stuart, says her father was born in Tennessee. Thomas' son, Brannick, reports in the 1880 Census that his father was born in Mississippi and in the 1900 Census his father was born in Kentucky.  The other children either died before 1880 or they did not give that information to the census taker.  The descendants of Margaret Riggs Stuart say that Thomas was born near Virginia and raised in North Carolina, as does John C. Riggs in his book, "Our El Dorado".  So you see, there are several possibilities.
Several suppositions come to mind as to where he was born.  One supposition is that he was born in the area where there was uncertainty about the Tennessee and Kentucky boundary line, known as the Walker Line.[2]  Personally, this supposition seems more plausible because of the resurvey done in 1859.  At that time the land in the area of the Walker Line that was in Kentucky became part of Tennessee. Tennessee became a state in 1796.  The 1800 Federal Census was lost for all counties as was the 1810 Federal Census for all counties, except parts of Grainger County.  The area of the Walker line that was considered part of Kentucky at this time, affected Christian (Montgomery in Tenn.), Logan (Robertson in Tenn.), Warren (Sumner in Tenn.), Barron & part of Cumberland (Smith in Tenn.), and Indian Lands in Kentucky that extended into Indian Lands in Tennessee.  The area of the Walker Line was still part of Kentucky at the time Thomas was born in 1802. The Kentucky 1800 Federal Census was lost for all counties.  The 1810 and 1820 Federal Census is available for all counties.  In 1810 the Walker Line was still used and in 1820 the state of Kentucky accepted the Walker Line.  In 1859 the boundary between Kentucky and Tennessee was resurveyed and changed to the present boundary between the two states.  This change added the area of the Walker Line to Tennessee.  This may be why Thomas gave his birth place in 1850 as Kentucky and in 1860 as Tennessee. A closer search of the counties included in the area of the Walker Line may produce some valuable information. Anthon (Tony) Turley, Jr., did some research in Logan County Kentucky and found a Thomas Riggs in the 1810 Census with three male children under the age of 10.[3] Could this be the father of our Thomas?
A possibility was presented by Rhoda Riggs Turley that Thomas's wife, Rhoda Casey Riggs, was born in the State of Franklin.  I did some research on the State of Franklin and found the following.  The state of Franklin was created in 1784 from 8 counties located west of the Appalachian Mountains in the state of North Carolina.  Had it been ratified it would have become the 14th state of the United States.  It existed for about four and one half years.  The area of the proposed State would have included western North Carolina, eastern Tennessee, southwestern Virginia and parts of Kentucky, Georgia, and Alabama.  These states all join together in a relatively small area of land.  Changes of State lines and County lines can be very confusing.  Communication was not as rapid as it is today and it sometimes took a long time for the people living in an area to become aware of changes made politically. Although the proposal for the State of Franklin was almost 20 years before Thomas Riggs was born, all of the area that was affected by the proposed State has been considered as possible places for his birth place.  Though I am pretty certain that Rhoda Casey Riggs was not born in Franklin, this may provide additional ideas and thoughts for areas to research for Thomas's family.
The idea of Thomas being born in Virginia and raised in North Carolina presents some interesting possibilities also.  There are several Brannick (surname) families in North Carolina and Thomas named a son Brannick. What could be the connection between the name Brannick and possible family connections for Thomas?
There is a family story that Thomas ran away from home when he was a boy and changed his name.  Perhaps he did, but there is no proof of this as of yet.
(Perhaps, as Freda Cruse Phillips suggests, what he was running away from was an epidemic that could have been Smallpox, Cholera or the Flu in the area of his home. She suggests that he left home as a teenager about 17 years old.)
(According to Freda Cruse Phillips Thomas had a sister Rachel and three brothers, Isaac, Augustus and Jesse. She also says that Thomas' dad was named Augustus.  I don't know where she obtained this information.)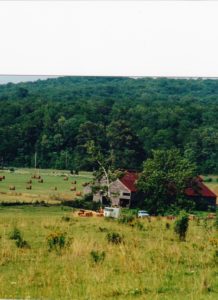 Picture taken in Izard County Arkansas maps and land records indicated that at one time Thomas Riggs had owned this land.
We don't know what Thomas did as a young man, where he lived or where he worked or how he met Rhoda Casey.  Georgia/Alabama/Arkansas area was Indian Territory until sometime in the 1820's.  White men were not allowed into that area unless they were Ministers, Merchants or married to an Indian.  Some, however, moved into the area before the Indian Lands were opened up to settlement by the white man.  Could the father of Thomas, or Rhoda, or both, or perhaps Thomas himself, have fit into one of these categories?  Family tradition says that Thomas was a peddler and carried his goods on his back as he went from community to community, before he married.
There is also a story that Thomas was a Riverboat Captain.  In the article taken from "Mother Monroe" it states that Tom Riggs ran a ferry on the Tombigbee River above Aberdeen, Mississippi and married a Casey girl. The Federal Census apparently was not taken in Marion County Alabama in 1820 so if he was living in that County we will not be able to find him in a census.
[1] Give film number, year and page number.
[2] The Kentucky-Tennessee boundary, intended to be 36o 30', was run too far north in 1779-1780 by Virginia surveyors.  Kentucky finally accepted this erroneous Walker Line in early 1820, but significant parts of the boundary remained uncertain until a resurvey completed in 1859.  Some settlers in the disputed strip were uncertain in which state they lived, though Tennessee exercised jurisdiction over much more of the strip than Kentucky ever did.  By contrast, the Kentucky-Tennessee line west of the Tennessee River was surveyed in 1819 essentially on 36o 30'.  Map Guide to the U.S. Federal Censuses, 1790-1920; William Thorndale and William Dollarhide.
[3] Anthon Turley, Jr. did some research in Logan County Kentucky and found a Thomas Riggs in the 1810 Census with 3 males under 10, 1 male 26 to 45, 2 male 45 or over,  2 female 10 and under, 1 female 10 to 16.